A kitchen is not only the place where you prepare your meals but can also be a gathering place for dinner parties and family holidays. So a kitchen should accommodate what you need for cooking, and also provide the type of space you need for dining, storage, and entertaining guests. A kitchen should reflect your lifestyles and its decor should complement the architecture of your home. There are many things to consider when designing a kitchen, and the first step is setting goals for the space.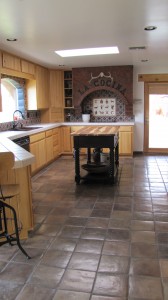 A kitchen remodel can be a huge undertaking, so make sure you ask your self why you are doing it and what to you hope to accomplish as an end result. Do you want to add space by knocking out walls? Do you need a kitchen that is less cluttered and easier to clean? Will you be replacing the cabinets and counter tops? Do you need to add functionality to your kitchen with new appliances and ease of access shelving? Do you want to replace that old vinyl flooring with beautiful saltillo tile? (See how we worked that in?)
It's also important to keep in mind how you use your kitchen. Track your daily routines there. Also consider how many people live in the house and who prepares the meals. Think of things such as whether the cook in the family is left-handed or right-handed. What type of meals do you cook in your home? What is the traffic pattern in your kitchen? How often do you dine there? Will you be using the space for entertaining? HGTV offers a helpful worksheet to help determine how you use your kitchen.
Let's not forget perhaps the most important thing to consider, budget! Do research to find out how much items cost before starting. Don't forget that you may not be able to do all the changes you want to do yourself, so figure in labor to your budget costs as well.
Here are some other things to consider:
Size of the space
Orientation of sunlight
Connection of kitchen to adjacent rooms
Homeowner's lifestyle
Condition of the building
If you need help or design ideas on remodeling your kitchen, please call Mexican Tile and Stone today.